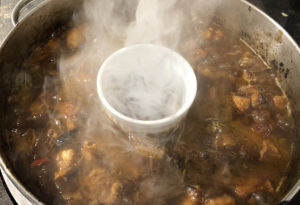 Upon watching an episode with the family, we were inspired to try the hot and smoky vindaloo, which was perfect for our aga.
The great thing about this vindaloo is the addition of using charcoal, cinnamon, and cloves into a bowl, which you cover with foil to help add the delicious smoky flavouring to the already hot and spicy mix.
We used our delicious, locally sourced, pork belly to make this dish, and it really does add a luxurious taste to the curry, which is more often made with chicken or lamb. We loved the idea of using a fatty meat for this spicy meal, as the pork soaks up the sauce and flavourings beautifully.
We recommend serving with yoghurt, as this is not a dish for the faint-hearted! You can also make your own chapati, which are really easy to make on an aga like ours.
For full recipe details, visit the Jamie Oliver website: https://www.jamieoliver.com/recipes/pork-recipes/hot-smoky-vindaloo-with-pork-belly/
Let us know how you get on making this curry, and any other recipes you recommend we try next!